Land is the Basis of Food Sovereignty
Getting land into the hands of community members to grow food and enjoy green space is good for residents, for our city, and for the environment!

Here are steps for acquiring vacant lots in Louisville:

Step One:  Find Owner and Research the Site
Find out whether the lot you are interested in is part of the Landbank or for sale by a private owner
Contact the Office of Community Development to find out if the property you are interested in is part of the Landbank:

Office of Community Development:

(502) 574-4016; Landbank Real Estate Coordinators: 502-574-4200;

Look up the address on the

Vacant Lot Inventory

; 

Map of vacant lots

You can check ownership by using the property tax search tool on the

Jefferson Co. Sheriff's website

Find out the Ownership and Assessed Value for any parcel in Jefferson County at

Property Values Administration

(Free access via the Louisville Free Public Library; otherwise you have to pay to use this resource)

Research the history of your property in the

Deed Room

or at

https://search.jeffersondeeds.com

if you want to find out who the prior owners were

U of L Archives

may have historic photos or maps of your property or neighborhood

Find additional information about the parcel by typing the address into

LOJIC Online 
Do a soil test through Jefferson County Cooperative Extension to evaluate nutrient and lead contents. Vouchers may be available to do this for free; otherwise, this test will cost around $20. It can take several weeks to get results.
Step Two:  Community Visioning and Planning
Reach out to your neighbors to share your idea, gauge interest, get feedback, and/or create a network of support.
Find other community partners who may support your vision (e.g. religious institutions, neighborhood associations, or local businesses)
Imagine together what you hope to see/feel/experience in the space (e.g. invite neighbors over and walk around to let them know what you're thinking about)
Start making some concrete plans for the space
Step Three:  Prepare Application Materials (if applying through Landbank)
Preview everything you will need throughout the application process:
– Basic Policy for Community/Market Gardens
– Process for Accessing Vacant Lots
– Vacant Property App Checklist
Anticipate potential issues (e.g., water access, drawings of the site, business or nonprofit incorporation, project financing) and brainstorm solutions/troubleshoot in advance Create drawings for your site plan, and water catchment (if applicable)
USDA Farm Services Agency will help you obtain a legal Farm ID number. Free & easy; Recommended for businesses or nonprofits if you want to apply for grants or USDA programs.
Write a (simple) business plan if necessary: Refer to the Urban Farm Business Plan Handbook, SBDC's How to Start a Business, and/or KCARD.
Step Four:  Turn in a Community/Market Garden Application to Planning and Design (if applying through Landbank and NOT eligible for Adjacent Side Yard or Cut It Keep It programs)
If you intend to start a community or market garden on Landbank lot and you do not qualify for the Adjacent Side Lot program or the Cut It Keep It program, you will have to apply through Planning and Design first. At this time, the Landbank only considers applications for gardens from groups (non-profits, LLCs, neighborhood associations, etc.) not from individuals. They also do not sell lots specifically for garden use, they only lease them. BUT we are advocating for this to change, and the Landbank has indicated that they are open to implementing a lease-to-own option for gardens. Email finlouisville@gmail.com to learn more and strategize around how to make your project a reality.
Planning and Design Phone: (502) 574-6230
Must conform to Louisville Metro Government's Land Development Code  Section 4.3.17 (Community Garden) or Section 4.3.18 (Market Garden)…The LDC is currently up for review, so this step may change soon.
Step Five:  Turn in an Application to Purchase or Lease Vacant Land to the Office of Community Development (if applying through Landbank)
Office of Community Development Phone:

(502) 574-4016; Landbank Real Estate Coordinators Phone: 502-574-4200

You will apply through one of these programs: Adjacent Side Yard program, Cut It Keep It program, or Option/Lease (Agricultural Projects for Community or Market Gardens)

Read more about each one here

If you are applying through the Adjacent Side Yard program or the Cut It Keep It program, you will need to provide the deed for the property you already own 

https://search.jeffersondeeds.com

If you are applying to lease as an Agricultural Project for Community or Market Gardens you will need to provide the following:
Project Description

Company description and list or portfolio of comparable previous projects, as applicable/available

Improvement specs – Describe in detail the improvements, estimated cost for each item, and name of contractor or person who will perform the work

Estimated project budget

Site Plan

A timeline for the completion of the project

Project financing – Describe and provide proof for the source of funding

Itemized budget that includes:

Operating costs for initial 3-year term

Staked survey completed by a licensed surveyor 

Soil test 

Availability of water

Including opportunities for water catchment

.

You can see nearby water lines at

LOJIC

.

Call 811 to ask  to have utilities marked on the property.

Insurance

Ask insurance agencies for quotes for General Liability insurance if you're selling produce or hosting visitors on your property.

Property Taxes if you are not a nonprofit

Search by address here:

http://www.jcsoky.org/ptax_search.htm

Permanent signage, if applicable
View detailed google doc of process
To apply for funding for the purchase of vacant land in Louisville, complete the application below and return it to finlouisville@gmail.com
More Resources
Louisville Grows Community Garden Tool Kit
Louisville Grows Community Garden Grant
Garden Safe, Garden Well: An Urban Gardening Guide
---
Accessing Vacant Land to Grow Food: The GUIDE

FIN created this Land Access Guide to help Louisville residents access vacant property to grow food.
We hope the information we have compiled helps Louisville residents access vacant property to use for growing food. We look forward to learning together as we continue building a comprehensive database of community resources.
We are happy to help you navigate the outlined process by connecting you to local resources and working with you to find answers and solutions. We can also act as a supporting organization for your application. If you are interested in accessing land and want support, please email finlouisville@gmail.com.
2020: Food in Neighborhoods
Lots of Food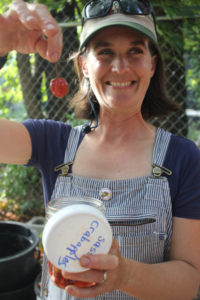 Amanda Fuller purchased five contiguous vacant lots from the Land Bank in 2013 to establish Lots of Food on 1/3 acre.  The Lots include an orchard of almonds & hazelnuts, berries, passion fruit, herbs, fruit trees, pollinator plantings, and 2 beehives.
Visit Lots of Food to find out about local urban fruits, nuts and honey,or to sign up for a spring or fall urban foraging class. And like the Lots of Food Facebook.
5th Element Farms

Mariel Gardner bought a vacant lot on South 26th Street in the Parkland neighborhood from the Louisville Landbank in 2018 where she started 5th Element Farms. In 2019, with a grant from the USDA, she built two high tunnels on the lot. Her initial plan was to start a pickle business with her friend, Michael. When COVID-19 hit, they pivoted towards growing food for their neighbors. They have given away about 250 pounds of produce this season. 
 Mariel and Michael hope to inspire their neighbors to grow their own food, creating a system in which community members divide the labor of growing so that the block can feed itself. They envision 5th Element Farm becoming an educational resource where they can host outdoor classes and model agricultural methods. Mariel and Michael plan to triple the amount they produce next year, adding medicinal herbs to their farm to promote the cognitive, emotional, and physical health of their neighbors. They also plan to buy more lots on the block in order to expand their project, perhaps to start processing on site, develop an aquaponics system (Michael's specialty), and add additional high tunnels. 
For Mariel and Michael, vacant lots are an asset, not a deficit and they are making use of these assets to feed their community. 
Learn more about Mariel and 5th Element Farms!
West Louisville Women's Collaborative
 West Louisville Women's Collaborative (WLWC) was the recipient of the Mayor's Lots of Possibility Grant 6 years ago–(unfortunately, this program no longer exists). With financial support from the city, WLWC transformed a previously vacant lot into a Peace Labyrinth to allow space for reflection and meditation in response to gun violence. The space doubles as a pollinator garden which supports the food growing boom happening in the West End. A board member of WLWC purchased the adjacent property as well and to create the ELA (Energy, Life, Art) House which now serves as WLWC's headquarters and a community gathering space. WLWC is currently working to purchase the lot between the Labyrinth and the ELA house. They would also like to purchase the home next door to the Labyrinth in order to start an Artist in Residence program.
Learn more about the Peace Labyrinth  & West Louisville Women's Collaborative. View a time-lapse of the Labyrinth's development here!