Land is the Basis of Food Sovereignty
Getting land into the hands of community members to grow food and green space is good for our city, for the environment, and for the people who work it!

Here are steps for acquiring land through the Louisville Land Bank:

Step One:  Find Owner and Research the Site
Contact the Office of Community Development to find out if the property you are interested in is part of the Land Bank.
– Call (502) 574-4200
– Or look up the address on the Vacant Lot Inventory
You can also check Ownership by typing in the address on LOJIC Online
Find out the Ownership and Assessed Value for any parcel in Jefferson County at Property Values Administration. (Free access via the Louisville Free Public Library; otherwise you have to pay to use this resource.)
Research the history of your property in the Deed Room if you want to find out who the prior owners were
U of L Archives may have historic photos or maps of your property or neighborhood
Do a soil test through Jefferson County Cooperative Extension to evaluate nutrient and lead contents. Vouchers may be available to do this for free; otherwise, this test will cost around $20. It can take several weeks to get results.
Step Two:  Community Visioning and Planning
Reach out to your neighbors to share your idea, gauge interest, get feedback, and/or create a network of support.
Find other community partners who may support your vision (e.g. religious institutions, neighborhood associations, or local businesses)
Imagine together what you hope to see/feel/experience in the space (e.g. invite neighbors over and walk around to let them know what you're thinking about)
Start making some concrete plans for the space
Step Three:  Prepare Application Materials
Preview everything you will need throughout the application process:
– Basic Policy for Community/Market Gardens
– Process for Accessing Vacant Lots
– Vacant Property App Checklist
Anticipate potential issues (e.g., water access, drawings of the site, business or nonprofit incorporation, project financing) and brainstorm solutions/troubleshoot in advance Create drawings for your site plan, and water catchment (if applicable)
USDA Farm Services Agency will help you obtain a legal Farm ID number. Free & easy; Recommended for businesses or nonprofits if you want to apply for grants or USDA programs.
Write a (simple) business plan if necessary: Refer to the Urban Farm Business Plan Handbook, SBDC's How to Start a Business, and/or KCARD.
Step Four:  Turn in a Community/Market Garden Application to Planning and Design
Must conform to Louisville Metro Government's Land Development Code  Section 4.3.17 (Community Garden) or Section 4.3.18 (Market Garden)
Planning and Design Phone: (502) 574-6230
Step Five:  Turn in an Application to Purchase or Lease Vacant Land to the Office of Community Development
Itemized budget that includes:
– Operating costs for initial 3-year term
– Staked survey completed by a licensed surveyor
– Soil test
– Availability of water
– Insurance
– Property Taxes if you are not a nonprofit
– Permanent signage if any
Office of Community Development Phone: (502) 574-4016
View pdf of the land access guide
More Resources
Louisville Grows Community Garden Tool Kit
Louisville Grows Community Garden Grant
Lots of Food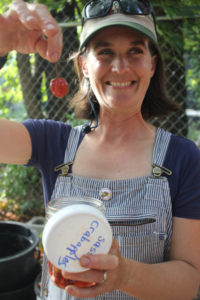 Amanda Fuller purchased five contiguous vacant lots from the Land Bank in 2013 to establish Lots of Food on 1/3 acre.  The Lots include an orchard of almonds & hazelnuts, berries, passion fruit, herbs, fruit trees, pollinator plantings, and 2 beehives.
Visit Lots of Food to find out about local urban fruits, nuts and honey,or to sign up for a spring or fall urban foraging class. And like the Lots of Food Facebook.