Kentucky's Nuts
Amanda Fuller, Lots of Food
March 2019
Are you wondering how to grow more of what you eat? Have you ever wished that we could grow more different kinds of food in Kentucky?  Are you trying to eat more healthy protein, fiber, or Omega – 3's?
Me too.
Several years ago I was thinking about all these things and I was surprised to find out that we are situated in a really good zone to grow several kinds of NUTS! I'm going to talk about almonds, hazelnuts, peanuts, and black walnuts—let's go!
At Lots of Food in Louisville's Portland neighborhood, I planted an orchard in 2014 of hazelnut and almond trees. Five years later, I'm harvesting a respectable and delicious pile of nuts from both kinds of trees. Like fruit trees, they don't require a whole lot of attention and I'm excited about the prospects for both of these crops to diversify our farms & gardens.  I invested in a mechanical nut-cracker in 2017 and it is saving a lot of time! It cracks black walnuts, hardshell almonds, hazelnuts, pecans, and hickory nuts.
Almonds: The two varieties that are appropriate for Kentucky are Hall's Hardy and All in One. They are both incredibly delicious, not at all like grocery store almonds but about twice as flavorful and almond-y.  They are HARD shell almonds though, so a handheld cracker won't do the trick. You need a lever cracker or (bless your heart) a hammer to get at them. Hall's Hardy yields are better, and it's recommendable to plant more than one to get good pollination & production. You can find both varieties at Stark Brothers nursery. I love Stark Brothers– they replaced one tree that died after I planted it, and one that was a bad graft. And they're in Missouri, so stuff they grow is good for our growing zone. The almonds are so good that I only give them away to people I really really love, but offering a taste test will hook anyone! Did I mention that they are delicious?
Almonds in bloom are drop-dead gorgeous and the bees love them!
Almonds developing on the tree look a lot like peaches. Not a coincidence- they're closely related, and our eastern almond varieties are grafted on to peach rootstocks. Anywhere you can grow peaches in Kentucky, you can grow almonds. For both peaches and almonds, I really like a kaolin clay treatment once or twice during the summer to protect them from bugs. Surround is the brand name – you can spray it our of a hand-pump sprayer, in June after the fruit sets.  Cheap, organic, and easy.
When almonds ripen, the fruit splits open. Harvest them now lest the squirrels figure out what you're up to.
Cleaning the almonds from the sticky fruit doesn't take a long time. I wash them with very dilute bleach to stifle mold, and lay them out to dry inside on a sheet for a couple weeks.
Hazelnuts: Spend some time choosing hazelnut varieties, and plant a few to ensure good pollination. They're wind-pollinated so they need friends nearby that are compatible in their blooming time! It's also worth looking for varieties that are Eastern Filbert Blight- resistant. My favorites (all from Stark Brothers) are my most-productive: Royal, Barcelona, and Casina. If you end up with empty shells, it might mean that the female flowers didn't get pollinated. Our increasingly unpredictable winter weather means unpredictable hazelnuts. So plant some hazelnuts, and also go plant ten trees and freeze  your car keys to reverse climate change so that those hazelnuts will be happy into the future.
Hazelnuts bloom in the late winter- the yellow catkins are clusters of male flowers waving pollen around, right around the time we want to prune. I wait until they are mostly done, so I get as much pollen blowing around as possible and hopefully a whole lot of pollination!
Hazelnuts develop in clusters
Harvest hazelnuts when they are toasty brown and start to fall on to the ground.  The shells are thin—you can crack them by hand, or put them in a pillowcase and pound (gently) with a hammer.
I'm fanatically committed to harvesting Black Walnuts from the tree in front of my house. I want to disabuse you of the notion that these are more work than they're worth. They're not—and did I mention they're delicious? Walnuts at the grocery store can set you back $15/ lb even if you don't buy organic,   so with a small investment of money & time you can make your money back pretty quick! Walnuts vary a lot from tree to tree so collect a bunch and keep them separate & well labeled until cracking time. Big nuts do not mean good nuts, but Louisville has walnut trees everywhere so you will surely find one that yields well.
Delicious black walnuts are all over Kentucky!
If you watch TV, or Netflix, or cat videos, then you could be sitting on your couch cracking nuts while you watch, and feel less guilty about it. I bought a lever-action nutcracker for about $60, and once I get started I have a hard time quitting. After just a few hours of binge-watching / nut-cracking, you will have earned back the money you spent on that nutcracker. Do shake your nutmeats through a colander and inspect them real closely to clean out ALL the bits of shell.  Black-walnut shells are so hard they are used as industrial abrasives. Wayward bits could break a tooth! After you inspect them fully, give some to someone who needs some nuts, and tell them you harvested them off the tree in your own front yard.  It seems like walnuts have a good harvest every other year, which is fine because there are so many nuts from one tree that they may last you more than  year!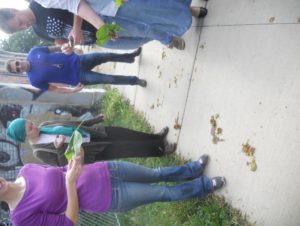 Stomp on the green walnut husks to get the nut out—but wear gloves when you pick them up because the notorious black-staining tannins live in the green juicy husk. I dump them into a bucket and rinse them in water, then lay them out to dry inside for a few weeks. Store them in reused mesh onion bags, or in a milk crate until you're ready to crack them.
Black walnuts are easy to crack with the lever-style cracker, after nuts have been washed & dried in the shell for a few months.
Black walnuts can be cracked all at once and sorted out later.
I've also grown several varieties of Peanuts at Lots of Food and if you have space, I recommend trying them! Give them plenty of space (like 18" between rows) because the stems have to lean over and root into the ground, where the peanuts develop- they're actually fruits of pollinated flowers, like a pea pod, but they bury themselves in the ground to grow into nuts. It's pretty fun and amazing to watch. I got seeds from Southern Exposure Seed Exchange which is great for regional heirloom varieties. See some photos of those growing plants HERE. Harvest them by pulling the whole plant out of the ground. Pick off the nuts and leave those nitrogen-rich greens in place to protect & enrich the soil. Spray off the nuts & dry them inside for a couple weeks. My mouth is watering for some boiled peanuts just thinking about them.
Portland (neighborhood) Proud – Peanuts
I have one other secret nut that I'm not going to talk about here. If you want to taste Gingko nuts, you've got to wait for my fall foraging workshop in October. I love them and I will feed them to you and tell you all about them in October! Email me to get on my workshop-notification list: louisvillelotsoffood@gmail.com
So, here's to growing more of what we eat, and sharing the food and the money you're saving, with people who need it. Low-melanin friends, check out the Reparations Roundtable, because there are real problems in this world and we can do something about it. Maybe it starts with a tree or two and some free food. Doing nothing can really drive me….. nuts.
My mechanical cracker handles black walnuts, hardshell almonds, hazelnuts, pecans, or hickory nuts.
More info:
Kentucky Nut Growers' Association (yeah, it's a thing) has not updated the website in a while, but growers are growing hickory nuts, chestnuts, pecans, and more:  http://www.pawpaw.kysu.edu/knga.htm
Kentucky State University has collected a slew of nut-related fact sheets: http://www.pawpaw.kysu.edu/hort/KNGA/nut_growing_publications.htm
Lots of Food vacant lot farm & orchard stories & pictures: http://www.louisvillelotsoffood.com/
Sign up for my spring foraging workshops this March 24 and April 14! Because free food is everywhere, if you know where to look.