Bucket Panniers Up your Urban Ag Game
You can carry all your seeds & tools back and forth to your community garden, or carry home your harvest without a drop of fossil fuels!
Here's what you'll need* (and see the crazy simple alternative method below)
You need a rack on the back of your bike. Falls City Community Bikeworks is a community Bike shop where you can probably find one: https://www.fccbikeworks.org/
Rectangular cat litter style bucket (or other container? Be creative)
4  rounded head screws 1" with  nuts
2 washers to fit on those screws
Flat bracket 6' long
2- 3 1/2" rope hooks
2" eyelet screw
1  Acorn nut to fit on this eyelet screw
1 Bungee cord (actually half a bungee cord- cut one in half or repurpose a roadkill one)
Reflective tape, stickers, etc
Tools: Drill, screwdriver, utility knife
How To: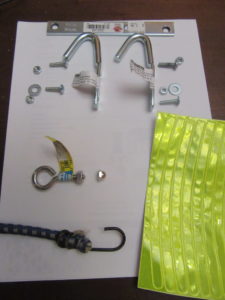 Place the bracket inside and mark 2 holes to drill for each hook.
I like the top of my hook to be flush with the top of my bucket so that I have a flat surface on the back of my bike when I hook them on my rack.
Cut away plastic as needed to place your hooks centered on the outside of bucket.
Drill four holes and screw the hooks on through the bracket. Head of the screw should be inside the bucket so that it won't shred your stuff!
Hang the bucket on your rack to figure out where to place the bungee. The holes should be high enough to keep some tension on the bungee hook to hold your bucket on. You'll drill a smaller hole ~ about 2/3 of the way down the bucket for the eyelet screw and a larger hole above it for the bungee cord.
Drill the two holes. Put the eyelet screw in first and use the acorn nut inside (so the screw doesn't shred your stuff). Poke the cut bungee cord through the eyelet and through the bigger hole. Tie a knot in the bungee cord inside your bucket to maintain the desired tension.
Add reflective tape, stickers etc because today is a good day to arrest the cops that killed Breonna Taylor.
 *Crazy simple alternative method
This method uses rope  (or innertubes) and a bungee to attach the bucket.